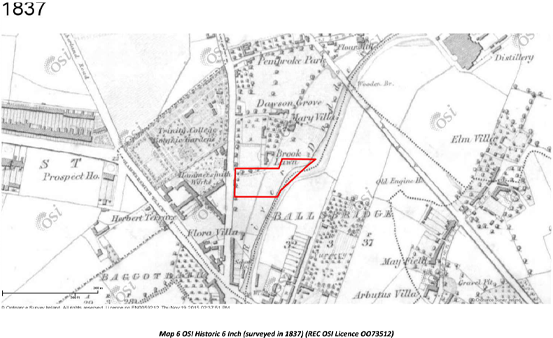 The Oval is a landmark office building located in the heart of Dublin's most exclusive residential, office and embassy areas – Ballsbridge, Dublin 4.
The development is positioned in the centre of Ballsbridge and occupiers enjoy the benefits of various amenities including the scenic Herbert Park and the many bars, restaurants, coffee shops and hotels located in Ballsbridge. The area is synonymous with international sport with the presence of The Aviva (formerly Lansdowne Road Rugby Stadium) and the RDS event centre.
It appears that the property was primarily Greenfield until the construction of an industrial laundry onsite in c.1912 which operated onsite until c.1987. The current buildings were constructed in c.2005. The existing historical redbrick chimney stack onsite is a Protected Structure (No. 7681). Anecdotal evidence would indicate that this chimney stack related to a historical laundry onsite.
In 2016 Patrizia purchased The Oval as their flagship office investment in Ireland.
THE OVAL BUILDING
The Oval Building comprises of a three distinctive five storey office buildings totalling 17,556 Sq M (188,976 sq ft) together with a double basement car park.
The ground floor comprises of retail space and the basement includes gym space and shower/changing facilities for cyclists. The site enjoys a relatively large internal street and central courtyard with river frontage and landscaping to the rear.
Internally the building is laid out in a logical manner enabling maximum flexibility. The impressive double volume atrium entrances are flanked by stone clad lift shafts, timer panelling and planar glazing. The upper floors of the building offer superb panoramic views of the Dodder & Shelbourne Road area with the 4th and 5th floors having 360 degree views of Dublin and surrounding areas.
The office accommodation is completed with raised access floors, four pipe fan coil air conditioning with some floors enjoying large external terrace areas.
A Vibrant Neighbourhood
BALLSBRIDGE IS A BUSTLING LOCATION WITH EXCELLENT RESTAURANTS, CAFES AND LEISURE FACILITIES OFFERING OCCUPIERS THE PERFECT WORK/LIFE BALANCE ENVIRONMENT.
HOTELS & PUBS
1. The Intercontinental Dublin Hotel
2. The Herbert Park Hotel
3. The Ballsbridge Hotel
4. The Clayton Hotel
5. The Dylan Hotel
6. The Lansdowne Hotel
7. Mary Macs
8. The Bridge Bar
9. Paddy Cullens
10. Slatterys
11. Waterloo
12. Searsons
13. The Bath
14. Beggar's Bush
15. The Wellington
16. Horse Show House
CONVENIENCE STORES
17. Centra
18. Spar
HEALTH, FITNESS & BEAUTY
19. Gym Plus
20. Mink Hand and Foot Spa
21. Trim Hairdressers
22. 4th Avenue Beauty
EATING OUT
23. Maia
24. Chopped
25. Sprout
26. The Jewel In the Crown
27. The French Paradox
28. Four Star Pizza
29. Roly's Bistro
30. The Lobster Pot
31. Kites
32. Starbucks
33. Embassy Grill
34. Al Boschetto
35. Baan Thai
36. Base Wood Fired Pizza
37. Bellucci's
38. Insomnia
39. The Chop House
40. Hemingways
41. Asador
42. Paulie's Pizza
43. Juniors
44. Butlers Chocolate Café
45. Shelbourne Social
46. Avoca